LONDON — Fourteen games into the 2021 season, and it's already been one heck of a ride for North Laurel sophomore Reed Sheppard. And while Sheppard has been drawing statewide and even nationwide attention, he wants to keep the focus on his team's success.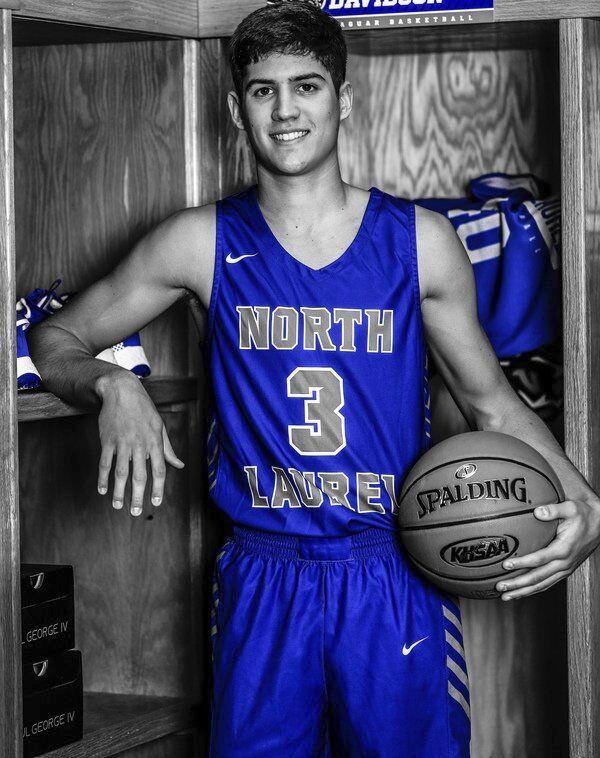 North Laurel stands at a perfect 14-0 on the season and is Max Prep's top-ranked team in the state.
The son of former University of Kentucky greats Jeff and Stacey Reed Sheppard has put up amazing numbers this season, leading his team with a 33.6 scoring average, 7.6 rebounding average, 10.4 assists per game average, 4.2 steals per game average, and 1.2 blocks per game average, while garnering Division I offers from Iona, High Point, Iowa, South Alabama and Stetson. Jeff Sheppard also confirmed earlier this week that the University of Kentucky has reached out to Reed.
With the success comes attention, and for Sheppard's case, not only from local and statewide media, but national media as well.
"Reed deserves everything he gets," North Laurel coach Nate Valentine said. "He obviously has a lot of God-given ability, but he works at it. After having a triple-double to help us get a tough road win earlier this season, Reed got off the bus and headed to the gym to get up shots because he wasn't satisfied with his play that night.
"He understands what it takes to get to the level he wants to play at," he added. "He's extremely coachable and is a very unselfish teammate, but he also has a very good balance in his life. He certainly takes basketball very seriously, but he values his education, his friends and teammates, and most importantly, his relationship with Jesus Christ."
With the COVID-19 pandemic shutting Kentucky's High School sports down from mid-March to mid-June, Sheppard took advantage of the situation and began working on different parts of his game daily until he was able to play AAU basketball during the summer.
The hard work paid off.
After already pulling off a rare quadruple-double feat last season, Sheppard has recorded four triple-doubles this season while scoring a career-high 54 points against Corbin, and 50 points against South Laurel. He's also had games of 17, and 16, assists.
"I was fortunate enough to have a place that I was able to go to every day to work on shooting, ball-handling, and strength," Sheppard said. "I just tried to stay prepared and get ready for the upcoming season.
"I was thankful there were some tournaments that opened up towards the end of the summer, and that we could get a group of guys together, and go play," he added. "Those few tournaments played a big part of my progress because there is nothing like playing games. It's just not the same as practicing every day and working out."
Sheppard's success has led media, and former players in the 13th Region to compare him to former Clay County legendary great Richie Farmer, who dominated the headlines during the late 80s as a Tiger.
"He's as good as I've seen, both passing the ball and with his hands on defense," former Harlan great and now Harlan County coach Michael Jones said. "He sees the floor extremely well, and what I'm most impressed with is he passes left-handed just as well as he does right-handed. He's a special player. There's no doubt about it."
Harlancountysports.com writer John Henson, who also covered former 13th Region greats Farmer, Nick Sanford, Phil Cox, and Charles Thomas was undecided on just how good of a player Sheppard could be until the Jaguar sophomore scored 18 points while delivering 17 assists during North Laurel's 96-75 win over Harlan County last week.
"I guess I'm a little old school, so I always lean toward the greats of the past when people start making comparisons," Henson said. "I think it's a little disrespectful to want to crown a team or player as the greatest ever after only one season, or part of a season," Henson said. "I thought Reed was an extremely talented player the past two seasons, but I didn't think he belonged in the all-time greats conversation. After watching him over here earlier in the week, I was blown away by how advanced his game has become, especially passing the ball and on the defensive end. I'm no recruiting expert by any means, but he certainly looks like a major Division I prospect at this point.
"If someone asks me the greatest player I've covered, I will mention Nick Sanford or Richie Farmer, Phil Cox or Charles Thomas first, but I think we might have Sheppard in that conversation at some point with all the tools he has and from what I've been told about his work ethic," he added.
Valentine said he's impressed with the way Sheppard and his teammates have handled the extra attention from the media.
"To this point, he's done an outstanding job of handling things this season," he said. "Reed continues to keep his focus on the team and continuing to improve as a player. Just as our team has done this season, we really don't concern ourselves with what everyone else is doing or saying or where people have our team, or Reed, in the rankings.
"We've done a really good job of just focusing on us," Valentine added. "We really concentrate on letting our play on the court do our talking. Reed does the same. Often, when you start focusing on everyone else, you become distracted from what you are trying to accomplish."
Despite the extra media coverage, Sheppard's main concern is for himself and his teammates to continue to improve while making a deep run into the postseason.
"I'm just trying to enjoy every day of my high school career," he said. "I have been playing ball with these dudes since kindergarten. We didn't expect the media coverage but it also doesn't bother us. I love seeing my teammates do well and be successful. We have all been really good friends for a long time and have played multiple sports together, so it's really good to see them being successful on the court.
"This year has been a blast," Sheppard added. "We all get along really well. We have to come into each practice and continue to push each other and make each other better. We are very thankful that we have been able to play this many games and are looking forward to keep getting better and try to finish the season strong."
With North Laurel unbeaten at 14-0, Sheppard said he and his teammates are thankful to be able to play this season with hopes of getting the opportunity to represent the 13th Region at Rupp Arena in late-March.
"We knew that we had worked very hard in the off-season but we didn't really know what to expect without any scrimmages or full practices this summer," Sheppard said. "We were just looking forward to the season getting started and getting some games under our belts. We are very thankful to have played as many games as we have so far. It's every team in Kentucky's goal to make it to Rupp Arena and play in the Sweet 16, and that's the same for us, but right now we have to take it day-by-day and game-by-game, and keep trying to get better."
___
Some of the media attention he has gotten: